James Findley Little (1896-1962) was the son of Judge Charles Little and Sophia Van Lear Findley Little, owners and residents of Van Lear house just north of Williamsport. James entered the army in April of 1917, later attending Officers Training School at Camp Taylor, Kentucky. 
NG 4/7/17 pvt; 
bn sgt maj 9/6/17;
 pvt 3/18/18; 
sgt 3/22/18, Hq Co 1 Md. Inf; 
Hq Co 115 Inf; 
Co A 112 MG Bn 3/19/18; 
12 Tng Btry FA Cent Off Tng School Camp Taylor Ky. 6/18/18, Hon disch 8/30/18, USA 8/31/18 2 lt FA, Btry E 28 FA, Hon disch 1/16/19 
An unidentified WWI soldier, the photo is part of the Williamsport Town Museum collection.
Charles "Charlie" Jordan (1892-1946). Born in Williamsport Charlie is pictured here with this father(?) at a boarding house in Atlantic City , New Jersey where he enlisted. 
RA saddler; pvt 4/3/18; mec 4/5/18, Sup Co 2 FA, Hon disch 3/14/19 SCD, Overseas 10/26/18 to 1/2/19

Charlies Jordan in action.
Two German bank notes in the Town Museum Collection.
The 100 Mark note was issued in 1908 by Imperial German and the green seal indicates the note was printed post World War 1.
1000 Mark Reichsbanknotes dated 1910 were printed until the end of WWI. The value was not covered by gold reserves and they were printed in huge quantities making them almost without value.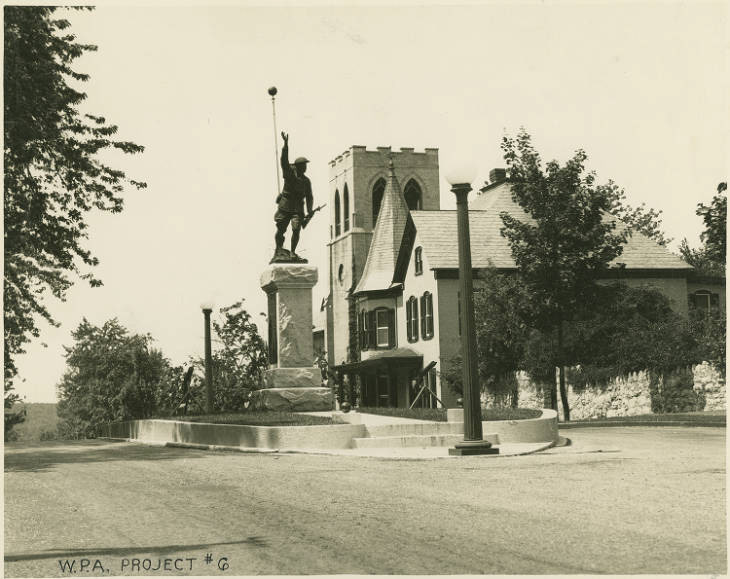 After the war Williamsport chose to remember her young heroes by a erecting memorial statue. Williamsport hosted carnivals and other fund raising events to purchase a suitable, dignified memorial to her young soldiers who served. 
The earliest photo of the Williamsport Dough Boy. Notice the stack of cannon balls in the foreground. 
WPA photograph from the 1930s.
WPA photograph from the 1930s. The stack of cannon balls has been replaced with a wooden WWI era wooden replica gun.