Maurice D. Miller (1903-1987), two-time mayor of Williamsport (1957-1961 & 1973-1977), at work in his downtown barber shop. The gentleman receiving the haircut is Karl Werder, a 1975 graduate of Williamsport High School.
Richard Kesselring opened Valley Evergreen Nursery in 1950 along the Route #11 Williamsport Pike across from Hopewell Road. He later moved the business onto the home farm along Kemp's Mill Road.
Richard and Zola Kesselring retired in 1970 and the nursery continued under new management.
Arthur Kesselring and son Richard in front of Kesselring's Grocery at 43 N Conococheague Street. 
William O. Bowser at his store in Williamsport. Bowser was confectioner and baker. Circa 1890.
Note the Coca-Cola syrup dispenser on the counter. Cola syrup was mixed with carbonated water. These dispensers date from 1888 until 1891 when the bottled Coca-Cola was first offered for sale. 
Bowser's Confectionary along Conococheague Street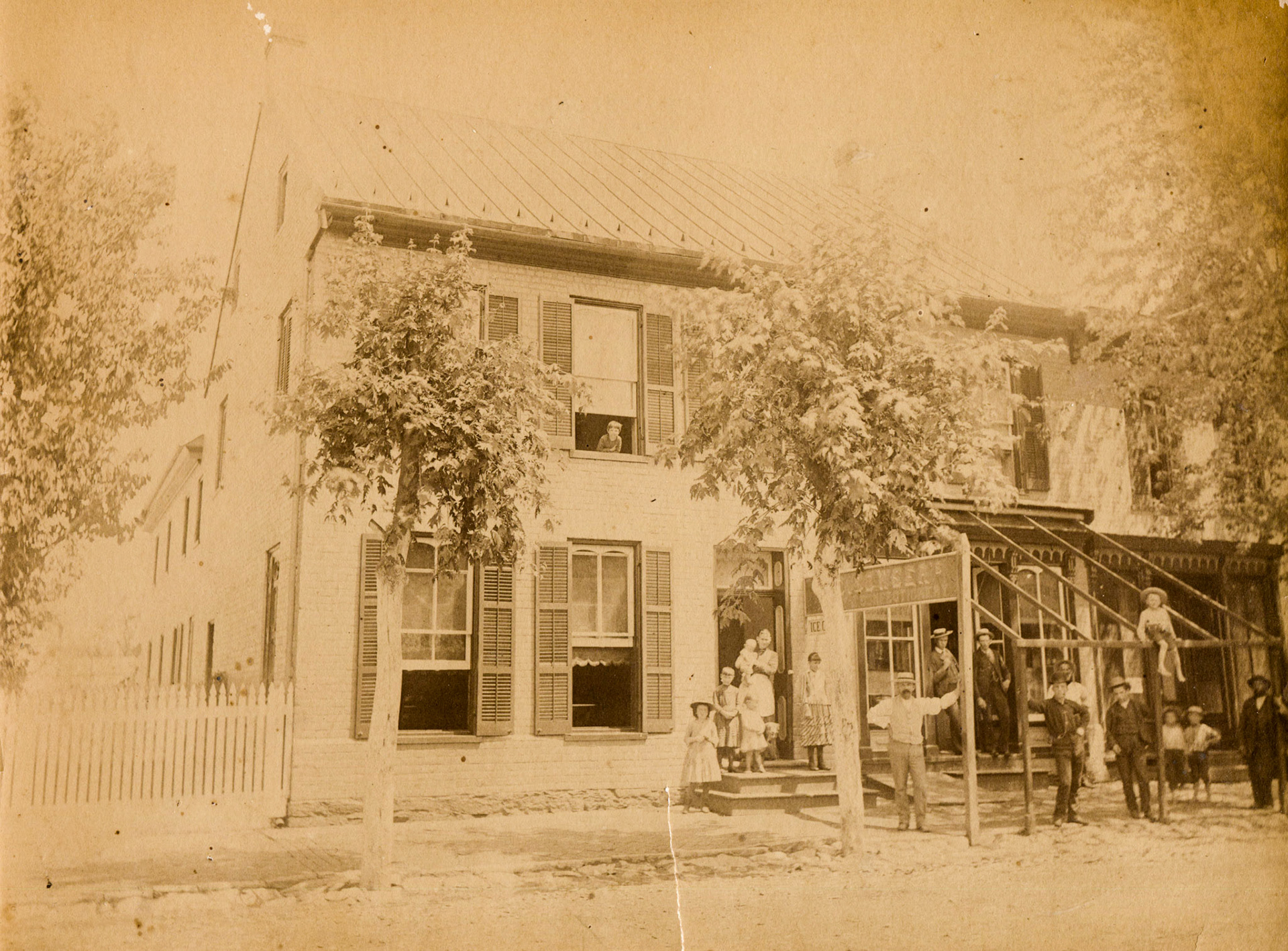 Interior of Bowser's Bakery, Conococheague Street
Williamsport Motor Company at 38 E Potomac St Williamsport MD. Standing  Mr. Rider, Child likely Jim Rider, Seated at desk Ronald Britner, Sr., Seated front Frank Weiderhold. Date on calendar June 1928.
William Norris General Store, Feb 11, 1914

Helen Curfman a long-time employee of W. H. Norris Store on Conococheague Street
George Taylor's store at 41 N. Conococheague Street in 1916. 
Inside Taylor's Store - Employee, Mr. George Taylor, Mrs. Taylor, Employee, Mr. Jim Madison Reverse of photo indicated employees as Stella Renner and Catherine Mentzer. 
Kreps, later Leaf's Funeral Home at the corner of S. Conococheague and Church Streets, Williamsport MD. Photo by J. D. Grove.

Sadly, Williamsport lost Wolfe's corner to fire in July of 2013. Originally built as Taylor's Hotel, it will be forever remembered as Wolfe's Corner.
Albert Oliver "Pete" Murray (1878-1941) and his wife Anna May Ripple Murray owned and operated Murray's Restaurant on Conococheague Street until he retired in 1937.  Photo July 4, 1925

Lemen Building and Post Office, corner Potomac and Conococheague Streets, Williamsport MD. Photo by J. D. Grove.

William Gower & Son Mill on Spielman Road in October 1931

Gower's Station Nov 1936. Howard Throne unloading, William Gower pointing to mill

The Custom Shop at 19 W. Potomac Street, Williamsport.
Interior of "the Custom Shop" furniture and custom upholstery at 19 W. Potomac Street Williamsport, 1955

From 1925 until he retired in 1965, Paul D. Kretzer and his family owned and operated Cloverdale Dairy delivering milk to some 290 local families. During a heavy snow in 1947 Kretzer delivered his milk by airplane.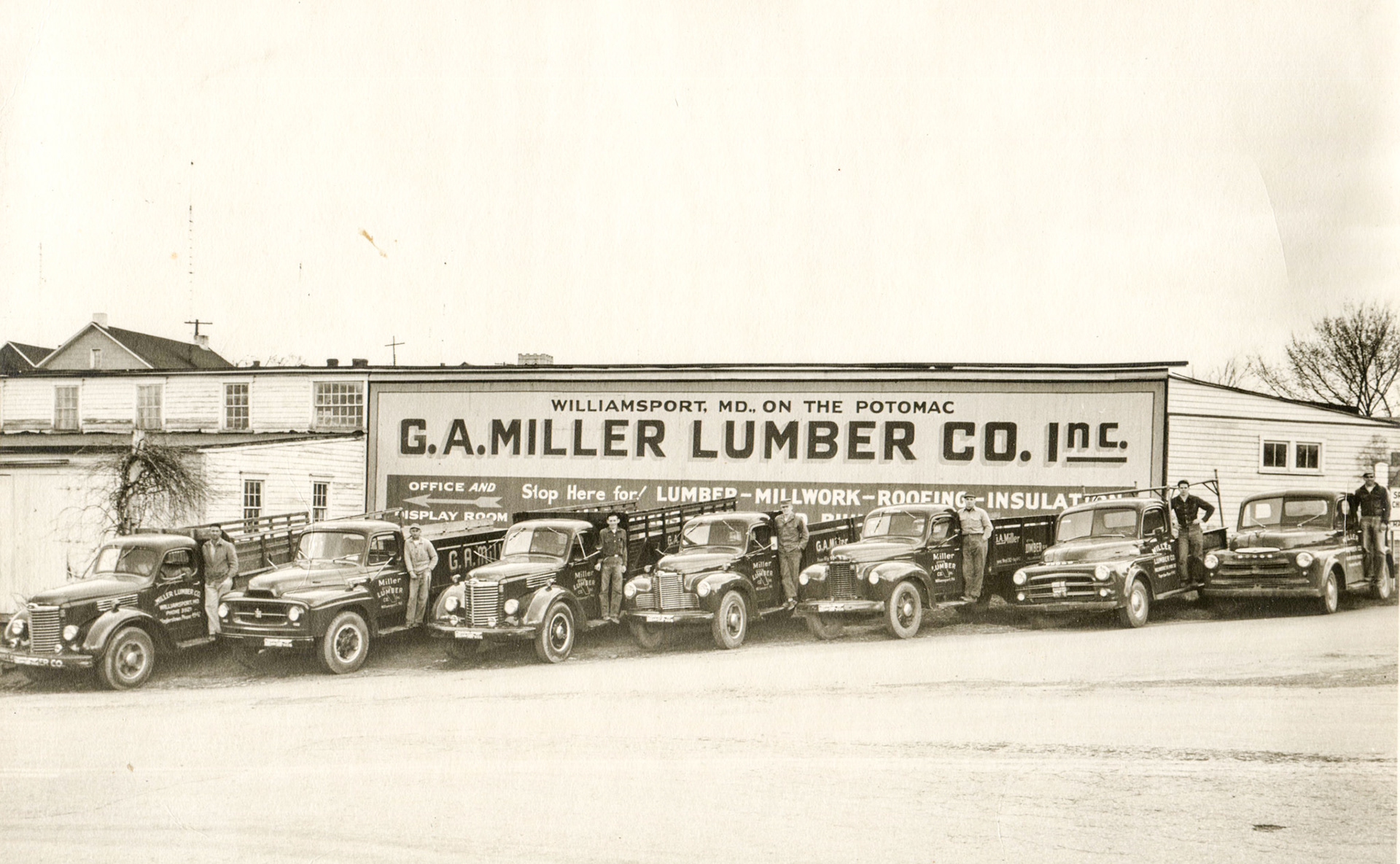 G. A. Miller Lumber Company  was probably the longest operating company in Williamsport opening in 1878, and closing in 2017. 
The Cushwa brick plant in Williamsport, MD has produced brick since 1874.

Setting bricks in Kiln, Victor Cushwa & Son Co., L-R Vic Cushwa, Willis Renner, William Banzhoff, Pat Bowers, Harry Mairack, Buzz Banzhoff

Frank Ardinger's store at the corner of Salisbury and Vermont Streets. Photo by WPA about 1933
The WWII local newspaper "The Dugout" photographed and published numerous local businesses. 
Undated list of Williamsport Businesses over the years