The Conococheague Aqueduct is the second largest of the eleven aqueducts on the 184.5 miles of the C&O Canal, and is listed on the National Register of Historic Places.
In August of 2017 the National Park Service began the monumental project of restoring the aqueduct completing the project in August of 2019. The project included constructing cofferdams within Conococheague Creek and rebuilding the aqueduct piers; rebuilding and lining the aqueduct prism so that it is safe, sustainable, and watertight; repairs to the stone work; installation of a period-appropriate guardrail; clearing the canal prism upstream including constructing a berm; and removal of the existing berm on the downstream side so that entire stretch could be re-watered.

Photo by: Jimmie Kackley, Martinsburg WV 2020
The C & O Canal Conococheague Aqueduct #5, Section 183 of was contracted on 25 August 1832 to Michael Byrne & Company. Work commenced in February of 1833 and was completed in Oct/Nov of 1835 at a cost of $43,283.78 to carry canal boats across the Conococheague Creek.
In antiquity, aqueducts were a means to transport water from one place to another, achieving a regular and controlled water supply.
Locals enjoying the aqueduct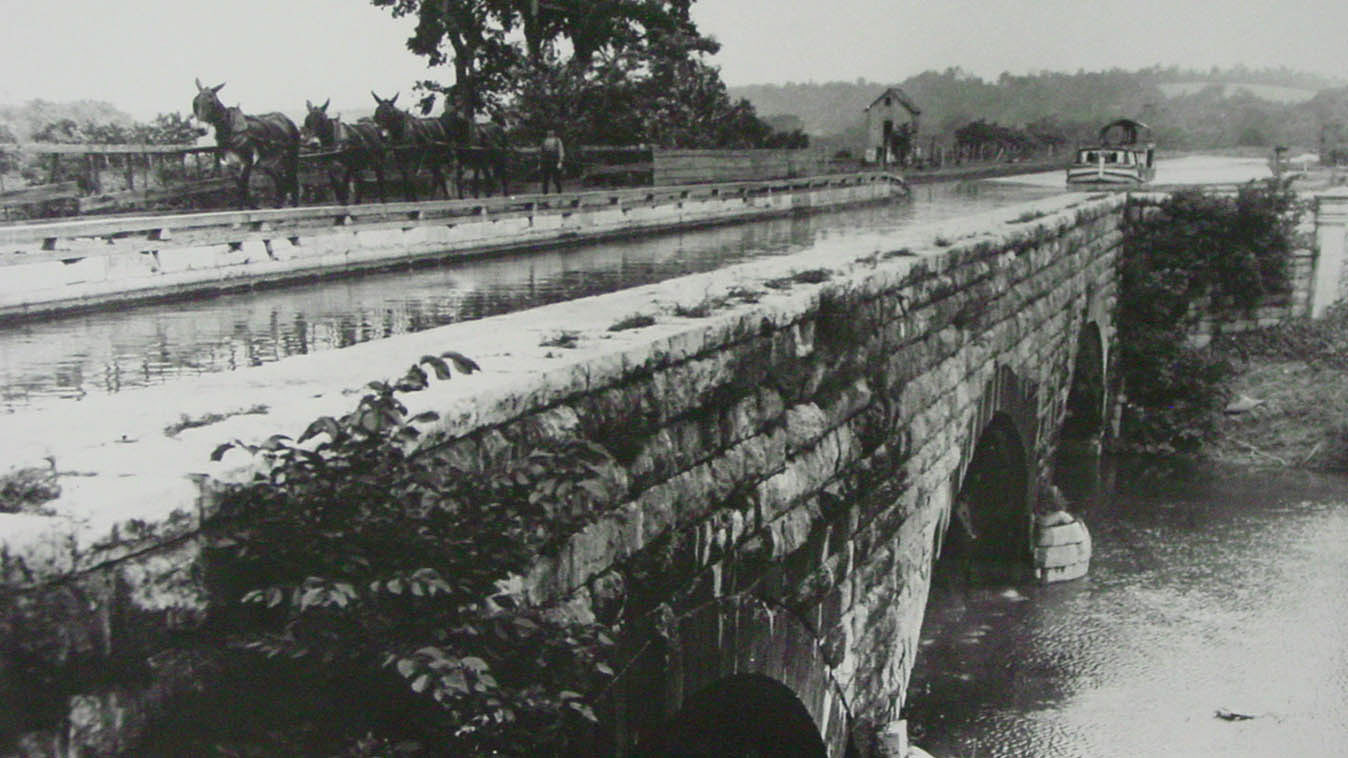 On April 29, 1920, the captain of canal towage company boat No. 72, Frank Myers of Big Pool, unloaded his boat at Steffey & Findlay's wharf and was head north for Cumberland.
Myers then entered the aqueduct lead by his son driving a three-mule team.

Just as the boat was mid-way through the aqueduct and the mule-team nearly to the upper end, 175 feet of the masonry wall of the Aqueduct collapsed on the north side of the Aqueduct in the the Conococheague Creek.

Frank Myers boat was swept down into the Conococheague Creek. Amazingly, Myers was able to leap to safety, and his sons and the mules were unscathed.
Water rushed through the broken wall like a cataract for hours until the Williamsport division of the canal was emptied. 
The canal supervisor for the region assured folks the supporting arches seemed intact, and the aqueduct would be repaired within weeks. 
 After the accident, the canal company replaced the wall with a wooden trunk. During the remaining four years of the canal's use, the wooden wall remained in place. Since that time, the wood has rotted away, leaving the majestic structure without one of the essential features of an aqueduct.

The wooden walls being installs while Frank Myer's boat was still resting where it had capsized into the Conococheague Creek.
The wooden wall repairs lasted for four years before the wood rotted. 
The Conococheague Aqueduct before restoration