The earliest central portion of Springfield Farm was built about 1756 by David and George Ross of Annapolis. The Ross brothers were commodity dealers and the home served as home to George Ross and a warehouse for goods the brothers supplied British soldiers and the militia during the French and Indian War. 
George Ross married Mercy Williams, elder sister to Otho Holland Williams, in about 1768. For several years the Rosses, and the orphaned younger Williams children including Otho, Elie, and four younger sisters lived at Springfield Farm. 
George Ross died in 1771. The widow Mercy and her sibling lived at Springfield Farm for four more years until Mercy married John Stull of Hagerstown and the family moved to Millwood, the Stull plantation south of Hagerstown. 
Photo: staircase and early battened doors in the oldest, central portion of Springfield Farm
After George Ross's death and Mercy's marriage to Stull in 1773  David Ross leased Springfield Farm to Mr. Minor for a tavern. David Ross repeatedly advertised the estate for sale numerous times without success. The farm remained unsold during the Revolutionary War.
After the Revolutionary War and the death of David Ross in 1777/8, Brigadier General Otho Holland fulfilled his aspirations of creating a port-town on the Potomac River where he had been raised. William purchased all the property in the region area including Springfield Farm. 
Photo: two glass windows with scenes of Yosemite Valley are in the western addition of the house.
Otho Holland Williams never lived at Springfield, or Williamsport for the remainder of his short life, preferring to live in Baltimore or his estate at Ceresville in Frederick County. The General died in 1794 at age 45. 
Springfield Farm was inherited by the General's son, Major Edward Green Williams. The major was a graduate of Princeton University and captain of horse in the War of 1812, and came into possession of the estate in 1810 and began living there in about 1814. The Major married Anne Gilmor of Baltimore in 1821.  After his death in 1829, his widow returned to Baltimore with her children, where she died 10 years later. 
Frequently offered for sale with no buyers, Springfield Farm remained in the Williams family until 1864, when it was purchased by Charles William Humrichouse,a wealthy Baltimore sugar merchant. Humrichhouse had married Leah Hawkins of Williamsport. Members of the Humrichouse intermarried with prominent families such as Ridgley, McComas, Byron, Edgar, and Hawkins. Senator Louis McComas ran several of his political campaigns from Springfield farm at the turn of the century. 
After Charles W. Humrichouse's (1824-1903) death and his wife's death in 1906, ownership of the farm transferred to his eldest son, William Hawkens Humrichouse (1847-1935), who moved on the farm from Baltimore where he had continued in his fathers trade as a sugar merchant. 
The Humrichouse family spent generations at Springfield Farm. Photo showing the lovely gated entrance in 1897
Mary "Mamie" Humrichouse in 1897 with Rex on the stoop at Springfield Farm, her grandfather's farm. A year later Mary married William Post Duvall and lived in Baltimore. After he died in 1918, she moved to Springfield and lived there until 1948. 
Charles William Humrichouse (1876-1948), was the third generation of that family to own the farm. He also lived and worked in Baltimore in the sugar trade, traveling often to Detroit where his married sister's family was also in the trade. He never married. He and his widowed sister, the very handsome Mrs. Mary "Mamie" William Edwin Post Duvall, lived at Springfield farm until his death in February of 1948. A few months later the 276.65 acre farm was sold to Glenn V. Kretsinger for $70,000. 
Photo: Very early photo of the Springfield Farm Stillhouse in ruins. Debates continue if by neglect or fire.
The Humrichouse Family at a Springfield reunion circa 1920.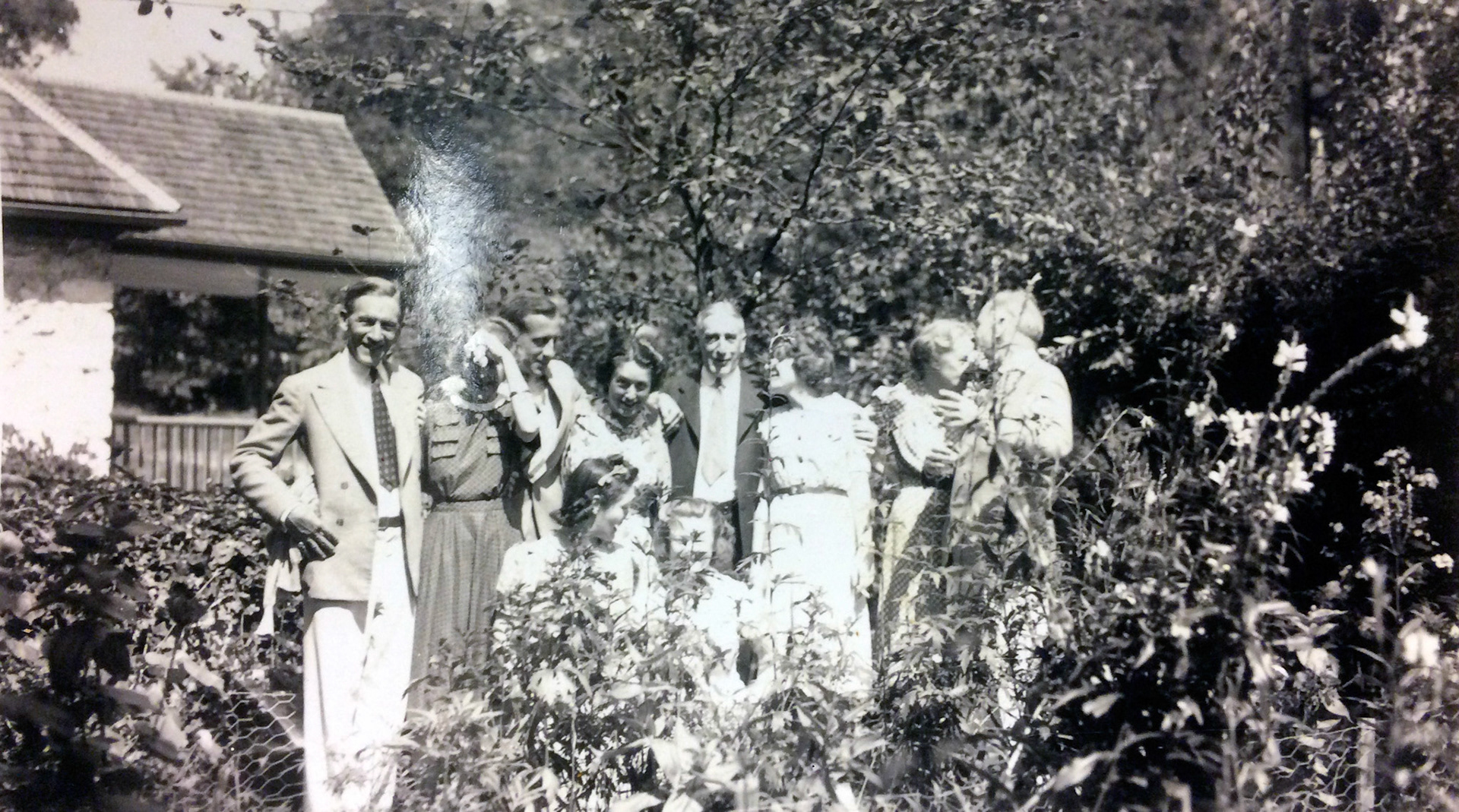 Photo of Springfield Farm circa 1897
In 1974 Springfield Farm was listed on the National Register of Historic Places.